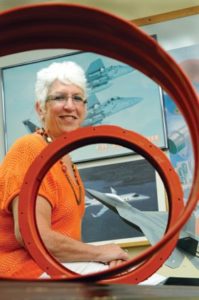 This week I welcome Dianne Zimnavoda, CEO of RCF Technologies. Headquartered in Vidalia, Ga., RCF has been a major supplier to the aerospace and aviation industries since 1975. RCF was founded in 1975 by Jack M. Kramer, with the intention of designing and selling seals, couplings, ducting and gaskets to the commercial aviation industry.
Aware of a specific sealing problem on the Boeing 747 aircraft, he began developing a unique design to solve that problem. The success of the design was based on two major innovations: first, a new, proprietary silicone/fiberglass composite material and second, a patented seal design.
By 1980, RCF seals were to be found on most major air carriers and had developed a reputation for high quality and engineering problem-solving.
As of 2009, RCF has begun marketing to the high-performance racing industry, including NASCAR. The problems of heat, weight and performance apply in much the same way as in the aerospace industry, and their reception into this market has been nothing short of exciting.
The seals and gaskets are made with Rishon®, a homogeneous material that before processing, consists of RCF's proprietary high temp silicon base material and a standard fiberglass mesh in most cases.
Rishon has 5 major attributes above and beyond what is on the market today for standard composites and Dianne will be sharing these attributes with me today. You can find more about RCF Technologies by visiting www.rcftechnologies.com.
We'll also be discussing how the Georgia Department of Development (GDEcD) has helped RCF Technologies grow its business.  GDEcD's International Trade representatives have helped Dianne and RCF with connections for trade shows, identifying new markets that may be advantageous to exports and introductions to potential customers and key leaders in the aerospace industry.
In addition, the GDEcD has also helped RCF make a connection with Georgia Tech University. Georgia Tech has allowed RCF to use their facilities and connections to assist them in testing new products, saving the company time and money. You can find more info on the Georgia Department of Development by visiting www.georgia.org. 
Enjoy this latest post?
Subscribe for Updates
Get the latest news and updates from Composites Weekly delivered regularly.