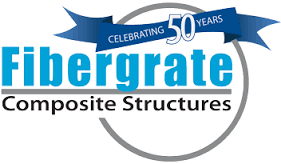 This week, we welcome Brittany Fossier of Fibergrate Composite Structures. Fibergrate is the world's leader in fiberglass reinforced plastic (FRP) molded grating.
Founded in 1966, they are now celebrating 50 years of experience in the FRP industry.
Over that time, they've grown to be the leading global manufacturer and services provider of high performance fiberglass engineered solutions.
With worldwide sales, fabrication and distribution networks working collaboratively, Fibergrate now provides product solutions for a wide range of industrial, commercial and recreational applications.
Some of their products include:
Molded gratings
Pultruded gratings
Stair covers and treads
Work Platforms
and Unique products like sound barrier walls
On today's episode, I'll be talking with Brittany about Fibergrate's 50 years in the FRP industry as well as the molded gratings,  pultruded gratings and other unique products they manufacture.
We'll also be discussing the benefits of fiberglass reinforced plastic gratings compared to steel. These benefits include corrosion resistance, low maintenance, slip resistant, light weight, high strength and impact resistant. 
You can watch the "Fibergrate Drop Test" in the video below to see the impact resistant benefits of their FRP molded gratings vs traditional steel.
Enjoy this latest post?
Subscribe for Updates
Get the latest news and updates from Composites Weekly delivered regularly.