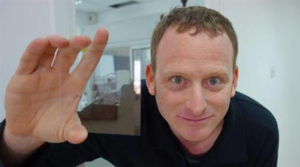 This week on Composites Weekly, we welcome Amit Dror, CEO of Nano Dimension, Israel's top tech stock (according to Bloomberg Business).
Nano Dimension was founded in 2012 and is focused on the research and development of advanced 3D printed electronics, including a printer for multilayer PCBs (printed circuit boards), and the development of nanotechnology-based inks, which are complementary products for 3D printers.
Nano Dimension's novel and proprietary technologies enable the use of conductive ink for ultra-rapid prototyping of complex, high-performance multilayer printed circuit boards. The company's uniquely innovative 3D PCB printer is the result of combining advanced breakthroughs in inkjets, 3D printing and nanotechnology. Nano Dimension also supplies its conductive nano inks to other fields in the electronics market.
Nano Dimension isn't for the maker community, it's for engineers and companies looking to rapidly test multilayer printed circuit boards – the same PCBs found in many of today's consumer electronics.
Nano Dimension is taking 3D printing to a new level by combining a polymer material with a conductive metal nanomaterial (in this case silver) in the same print job.
You can find out more about Nano Dimension by visiting http://www.nano-di.com.
Enjoy this latest post?
Subscribe for Updates
Get the latest news and updates from Composites Weekly delivered regularly.