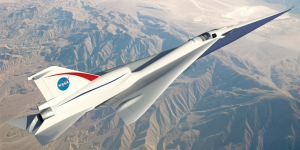 This week we'll be discussing some of the latest technology developments in the aerospace market with Cameron Crowell and Emily Judd.
Both are students who are working and doing research in composite materials in aerospace structures. On this episode, we'll be discussing NASA's work to make flight greener, safer, quieter and faster. We'll discuss developing aircraft that travel faster, and building an aviation system that operates more efficiently.
We'll also be discussing Miralon, an advanced material being used to protect the solar-powered spacecraft en route to Jupiter for NASA's Juno mission.
Cameron is a current graduate student at Virginia Tech researching nanostructured metals in the department of materials science and engineering. He is the Operations Manager for the Journal of Undergraduate Materials Research, a department-owned journal that publishes only undergraduate research in a peer reviewed journal. He is also an active member in the Materials Engineering Professional Society, as well as a volunteer for the Space Frontier Foundation and Students for the Exploration and Development of Space.
Emily plans to pursue a Ph.D. in Space Sciences and Engineering with research interests in composite materials and aerospace structures. As a passionate advocate for STEM outreach, Emily works with the Society of Women Engineers and Students for the Exploration and Development of Space (SEDS) on a variety of outreach events for middle and high school students.
Enjoy this latest post?
Subscribe for Updates
Get the latest news and updates from Composites Weekly delivered regularly.