This week, John Cogger joins me on Composites Weekly to discuss the keys to success for composites in new markets like the architectural industry.
John is the president of Innova Engineering – a firm that provides engineering services to manufacturers in a variety of industries including medical, aerospace, consumer product industries and the architectural.
John has over 25 years of experience in the fields of engineering and consulting, and has direct experience in the application of composites materials ranging from high performance thermosets, to long and short fiber injection molded thermoplastics, in architectural applications.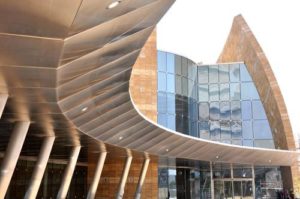 On this episode, we'll continue to discuss composites in the architectural industry and the exciting possibilities that are available.
One of the main concerns in the use of these materials though is the cost, as well as perceived manufacturing complexity.
John says the keys to success in using these materials is a keen understanding of the manufacturing process, the ability to perform quick and simplified analysis of complex materials, and the use of topology optimization tools to reduce costs and provide maximal structural benefits using the least amount of material.
You can find out more about Innova Engineering by visiting their website at www.innovaengineering.com.
Enjoy this latest post?
Subscribe for Updates
Get the latest news and updates from Composites Weekly delivered regularly.