While gelcoat and wet-out application technology continues to improve, there is still some confusion over what types of systems are needed – internal mix or external mix. Internal mix spray systems have a mix chamber in the gun head where the resin and catalyst are blended by a static mixer. This type of system is used primarily with wet-out or chop applications.
The benefits are obvious in that you don't have the strong smell MEKP being sprayed into the resin on the outside. The downside however, is that if the gun head is not flushed out with acetone, it will "kick off" and you'll be burning out hardened resin.
There are a number of factors to consider before deciding between external mix or internal mix. One of the biggest is the level of experience of the gun operator.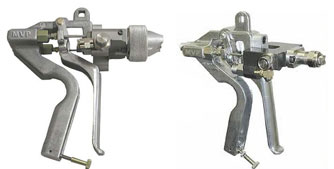 As far as gel-coat goes, you should never use internal mix spray systems. The biggest reason is that introducing gel-coat at high pressures through a static mixer can cause porosity and  a rougher finish.

I'll be discussing this in more detail on today's show.
Enjoy this latest post?
Subscribe for Updates
Get the latest news and updates from Composites Weekly delivered regularly.