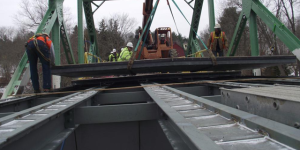 This week we welcome Scott Reeve on the show. Scott is the president of Composite Advantage, the leading supplier of FRP products for bridges, waterfront infrastructure and rail platforms.
When it comes to FRP Composite Bridges & Waterfront Infrastructures, Composite Advantage is the company to call.
They design and manufacture high-performance Fiber Reinforced Polymer composite products that are:
Light weight
Corrosion resistant
Prefab for easy installation
Low-to-no maintenance
On this episode Scott will be talking about his company and some of their recent projects.
In 2012 Composite Advantage installed one of the world's largest FRP composite pedestrian bridge decks [685 ft. long, 16 ft. wide] along the Anacostia Waterfront in Washington D.C.
In 2013 they supplied the world's largest FRP bridge deck for a vehicle bridge in Haverhill, Mass. The six-span steel truss structure was built in 1883 and is the state's oldest moveable bridge.
Composite Advantage has also supplied FRP composites to replace the existing steel bridge deck grating supporting Ottawa, Canada's historic Minto Bridges East and Center. Their FRP FiberSPAN™ bridge deck system was selected over fiberglass wood decking.
You can find out more about Composite Advantage by visiting www.CompositeAdvantage.com.
Enjoy this latest post?
Subscribe for Updates
Get the latest news and updates from Composites Weekly delivered regularly.