This week on the show, Larry Dickinson, president of 3F,  joins me to talk about his work developing natural fibers like Kenaf to be used as a substitute for fiberglass.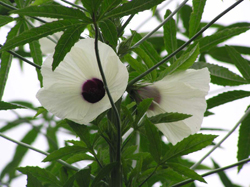 Kenaf is a plant originally native to Africa, but is now being grown in the states. Larry believes that this plant will eventually be a future fiber crop for structural composites manufacturers. This is due in part to two potential products that come from Kenaf.
The stalk of the Kenaf contains fibers in both the bark and the core are highly beneficial. The core of the plant is one of the most absorbant materials and is already being used used for producing products that soak up chemical spills. He explains that Kenaf is also resistant to microbes and termites so it also makes a great structural material as well.
The problem so far in being able to use Kenaf as construction material is directly related to the strength of the bond between the fiber and the matrix. And the problem gets worse after being exposed to moisture for long periods of time. Larry explains that natural fibers like Kenaf are strong and stiff but there is always a weak interface issue and that problem gets worse once the fiber is exposed to water.
What Larry and his team at 3F are working on, is a patent chemical that helps to solve the moisture issue while at the same time increasing the fiber-to-matrix bond strength. Once this chemical process is developed, Larry believes natural fibers will be able to completely replace fiberglass in many frp products.
On today's show Larry will be sharing a little more about this process and when we might possibly see this new bio fiber on the market.
Enjoy this latest post?
Subscribe for Updates
Get the latest news and updates from Composites Weekly delivered regularly.