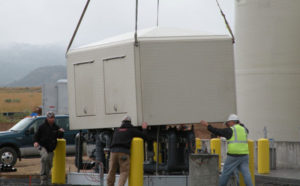 This week, John Miller, Director of Sales & Operations at Shelter Works joins me on the show to discuss his company's success in manufacturing high quality composite buildings.
Shelter Works manufactures composite structures to protect field equipment in many industries, including water, waste water, gas, oil, telecom, aviation and energy. Their shelters are dramatically different from typical fiberglass buildings because of the unique manner of construction that improves quality, eliminates de-lamination and strengthens the structure even further.
All of Shelter Work's shelters and buildings use FiberBeam Technology, an innovative, proprietary composite lamination process that bonds inner and outer fiberglass skins with a series of integrated fiberglass I-beams.
These beams are spaced every 12 inches throughout the walls, doors, and roof, resulting in a structure that is equal to the strength of steel.
Foam is an excellent insulator, but not a great structural material. When a typical FRP panel with foam core is placed under a load, the bond between the foam and the fiberglass laminate is put under stress and can fail.
With FiberBeam™, the same panel is more rigid and can withstand much higher stresses without any bowing or buckling. You can see a great example from the video below.
On this episode, John will be discussing how the
FiberBeam™
and
FiberWrap™
technologies are instrumental in their process of building some of the highest quality of frp shelters to meet rigid requirements of industrial applications.
You can find our more about their company by visiting www.shelterworks.com.
You can also download a copy of their ebook, Innovative Technologies in Composite Building Construction by visiting www.shelterworks.com/cwebook.
Enjoy this latest post?
Subscribe for Updates
Get the latest news and updates from Composites Weekly delivered regularly.