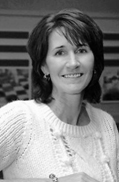 This week we talk with Jennifer Towner, executive director of The International Cast Polymer Association about the upcoming POLYCON 2016 show in Raleigh, NC April 14-16.
On this episode we'll be talking about the agenda for this year's POLYCON and also discussing the newly formed ICPA and their mission.
The ICPA, is a non-profit corporation made up of cultured stone and tile manufacturers, solid surface manufacturers, as well as their industry suppliers, distributors and affiliates.
The mission of the ICPA is to enhance the success of the member companies and enlighten the market on the value of cast polymer products.

As Jennifer describes, POLYCON 2016 will be filled with innovative ideas and business development opportunities, presented not only in large group settings but also round table discussions and afternoon break-out sessions.

This year's POLYCON agenda will feature three unique opportunities beginning on Thursday afternoon.
Reichhold Facility Tour – Thursday
1. A special event offered to manufacturer members:
Reichhold, will be holding tours of their facility. Registration for these tours is limited and separate from POLYCON registration.
2. Majestic Kitchen and Bath Creations Tour – on Thursday from 3 to 5 pm – open to all.
3.  Welcome Reception and Marketing Presentation – Thursday evening from 6-7:30 pm at the Majestic Kitchen and Bath Creations Showroom. Kyle Held of Skybound Marketing will help manufacturers explore ways of marketing a product that is widely varied, hard to photograph, and difficult to explain.
Main Event – Friday 
The main event will be on Friday. A full day of presentations, round table discussions, vendor demonstrations, break-out sessions, regulatory updates and networking. You can see the AT A GLANCE Schedule for all the details.  The day will end with a cocktail reception and then an association dinner with entertainment and awards.  
Hands-On Demos – Saturday
On Saturday morning, hands-on demonstrations will be hosted by Majestic Kitchen & Bath Creations at their plant in Youngsville, NC.
Enjoy this latest post?
Subscribe for Updates
Get the latest news and updates from Composites Weekly delivered regularly.