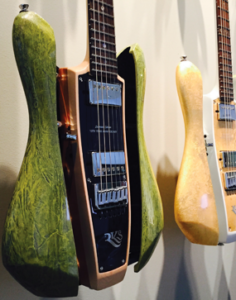 This week we interview Scott Clear, the Chief Design & Innovation Officer at RKS Design. RKS, is a Los Angeles based design and innovation consultancy that has earned hundreds of awards and achieved global recognition by being able to help companies emerge with meaningful and disruptive design and innovation in any category.
One of their recent projects consisted of creating an all new sustainable composite using excess tree pulp, something that had never been done before.
They molded the first batch of this material into guitars, to take advantage of the wood-like qualities that it offers. You can read about the project here.
On this episode, Scott joins me to talk about this project using THRIVE, a new class of thermoplastic composites.
THRIVE composites use cellulose fibers to reinforce various plastics, allowing customers to bypass many of the current challenges with conventional fiber-reinforced composites like fiberglass. Thrive begins life as a pine seedling that grows rapidly in millions of acres of forests managed by Weyerhaeuser—a world leader in sustainability.
In the manufacturing world, THRIVE behaves like no other material, offering:
Improved part quality
Enhanced molding efficiency
Higher productivity
Reduced energy needs
and Cost savings
Below is a video showing the guitars that were designed by RKS using THRIVE.

Enjoy this latest post?
Subscribe for Updates
Get the latest news and updates from Composites Weekly delivered regularly.