This week on Composites Weekly, we'll be discussing "controlled spraying techniques" for helping composite manufactures reduce emissions, and improve transfer efficiency thereby reducing waste.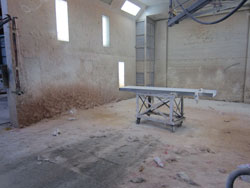 According to the ACMA Controlled Spraying Handbook, there are three major elements that work together to reduce emissions. They are:
Proper spray gun settings
Capturing overspray at the mold perimeter
and training gun laminators and gun operators
Spray systems for both gelcoat and resin need to be properly set. One of the biggest mistakes I see when I visit manufacturers is that their spray system pressures are way too high.
Gun operators often like to crank up the pressure at the pump in order to get a spray pattern they desire. High pressure leads to overspray, higher styrene emissions and poor transfer efficiency when it comes to getting more material on the mold instead of up in the air.
What many of these operators fail to understand is that fan spray patterns and increased material flow can be adjusted by changing out spray tips instead of cracking up pressure.
We'll be discussing this more as well as discussing the proper spray techniques for applying gelcoat. For a good visual instruction for teaching new spray gun operators, I recommend the Controlled Spraying M
ultimedia CD published by ACMA.
You can order a copy at http://www.acmanet.org/store/bookstore_inventory.pdf.
Enjoy this latest post?
Subscribe for Updates
Get the latest news and updates from Composites Weekly delivered regularly.